HADLEIGH

Lawn Tennis - Hadleigh v Bildeston - On Friday the 8th a lawn tennis match was played between the Hadleigh Club and a team from Bildeston, at Hadleigh, when the home team won four sets to two. Mr H Kersey for Hadleigh and Mr Spilling for Bildeston played remarkably well. The following gentlemen took part:


Hadleigh
Mr Wm Kersey
Mr A Kersey
Mr H. Kersey
Mr P. Wilson
Bildeston
Rev. T.S. Harris
Rev. W. Forbes-Leith
Mr Spilling
Mr Waters


Mr A. Newman and Mr C. Hood officiated as umpires.

Bury and Norwich Post, Suffolk Herald - Tuesday 19 July 1881
From this historic newspaper article it appears that Hadleigh Tennis Club was playing tennis matches in 1881, 30 years earlier than we thought. The Club is not 100 but at least 130 years old this year. This makes us one of the oldest tennis clubs in the country! A number of clubs claim to be the "oldest" tennis club, amongst them: Wimbledon (1877), Bexley, Kent (1880) and Cambridge University (1881). We are now obviously another in this prestigious mix.
It seems a little late to celebrate our centenary, however we felt that 130 years of tennis in Hadleigh did need a celebration of some sort.
Game, set and celebration
To mark the occasion ladies and gentlemen's teams contested a "challenge match" with Bildeston Tennis Club , which had first been played by gentlemen on 19th July 1881. It is often thought and remembered that summers were always hotter in days past but the celebration match, on Sunday 26th June, was heralded by the hottest day of the year so far.
As in 1881 the gentlemen of Hadleigh managed to win the match and the Challenge Cup. However the ladies match was a very close affair being decided by a tie break set, excellently contested by Mrs Jo Newman and Mrs Kate White of Hadleigh and Mrs Victoria Simmons and Margaret O`Hanlon of Bildeston. The Hadleigh ladies just managed to edge the result and claim the 1881-2011 Challenge Plate.
The occasion was a great success in 30 degrees of heat, perhaps a little warm for blazers, flannels and long skirts. However players and spectators alike enjoyed the tennis and the excellent barbeque lunch that followed.
The event also saw an exhibition match played between two Suffolk youngmen who are up and coming British tennis players. Paul Midgley (ranked 12th in the UK at under 16) and Ryan Lambert (ranked 22nd in the UK at 18). They played some scintillating singles tennis whilst players recovered and spectators relaxed with a glass of Pimms or similar.
The day ended with the presentation of the Challenge Trophies (kindly sponsored by the Hadleigh Thrift Shop) and commemorative gifts to players.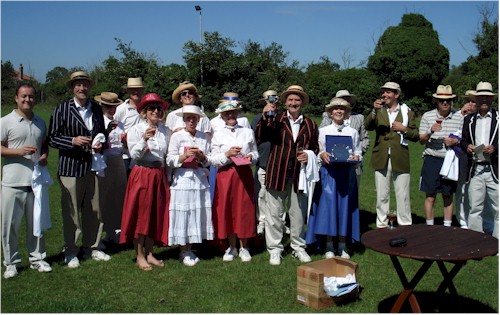 The photograph shows members of both teams toasting 130 years of tennis in Hadleigh, with Trevor Rowland and Liz Allan, the respective captains of the day holding aloft the Challenge Cup and Plate.
Now that this match has been re-instated we hope that it will become an annual event within the club calendar. Bildeston have already issued Hadleigh with the challenge to defend the trophies at Bildeston Tennis Club next year.
Do you know more?
Whilst we know that the original event took place, we have no information as to where the match was played and where the courts were in 1881, although we do know that at some time tennis was played at the bottom of the Cricket Meadow and on one clay court in Calais Street. We know something of the players too: we believe the Kersey family was prominent in Hadleigh and once lived in the High Street and later at Pond Hall farm.
If anyone can tell us any more, we would be pleased to hear from them by email to secretary@hadleightennis.org.uk or telephone 01473 822919.
Many thanks.